Soccer Socks Men / Women Adult Knee High Compression Sports Football Socks 1 / 4 Pack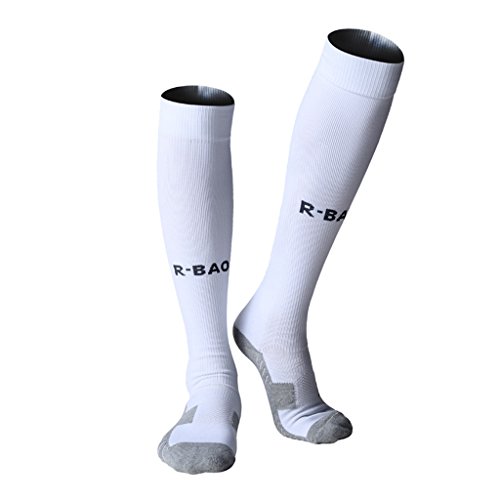 GUUMOR Soccer Socks Men / Women Adult Knee High Compression Sports Football Socks 1 / 4 Pack
Size:
Suitable for US Size 6.5-11.5 (Tag Size 39-44)
The Length of socks:
Tube Length: 40 cm / 15.7 inch Bottom Length: 21 cm / 8.3 inch
Features:
1. Super breathability and moisture absorption
2. Comfortable, lightweight and soft
3. Easily absorb and evaporate sweat
4. High elastic
5. Cushioning support
6. Non-slip and hard-wearing
Package Include
1 Pair or 4 Pairs as your choosed with "GUUMOR" Brand Card.
Not only for football use, but also other sports like basketball, hiking, running, rugby, hockey and other outdoor sports.
Our Guarantee To You
If you are not 100% pleased, we offer a full 30 day money back guarantee. No questions asked ! Only shipped from ThumbLike Clothing Ltd.
If you get socks without "GUUMOR" Brand Card, just return it and report to Amazon, get your money back.
GUUMOR is a Registered Brand in USA. Please note we havn't Authorized any other sellers to sell our socks.
Welcome to GUUMOR, our shipping time usually takes 7-12 days (ship from China) / 2-5 days (Fulfilled by Amazon) to arrive, please don't worry. Any question, please feel free to contact us, we will help solve it in 12 hours
Tube Meterial: 92% Nylon + 8% Spandex, Bottom Material: 85% Cotton & 10% Nylon & 5% Spandex. More durable and tear resistant
Size: Soccer socks fit perfectly for mens US SIZE 6.5-11.5 (TAG SIZE 39-44). Suitable sports socks for school, club, football, rugby, soccer, basketball, hockey tube, hiking, running, training and walking
Features: Pressure & Stretchy design, protect calf muscles and shin bones from impact of high-intensity traning. Toweling thicken textitle sole not only dry-fit, but also anti-skid, a well material for cushion while running. Breathable sweat uptake fabric keep feet away from sweaty even in summer
Included: 1 / 4 different color men women soccer socks with 'GUUMOR' Brand Card. This soccer socks for mens / womens is a great idea of Christmas gift / Birthday gift (Each socks has individual package)
---
Click Below For Full Details
---