Collector's Edition 251 Games – PC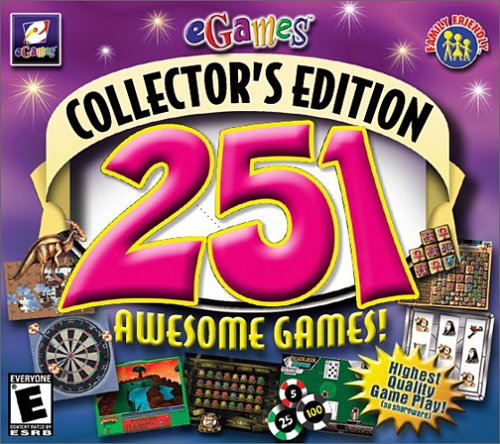 Easy to play, family friendly games that are fun for everyone!
Product Information
eGames Collector's Edition featuresover 251 incredible games gathered together in one exclusive package!  Choose from a wide variety of exciting categories including arcade, board games, cards, puzzles, word games, strategy, space games, and many more.  Great for all ages!
Games Included
Acey Ducey Backgammon
Alchemist
Animals of Africa
Balloon Kaboom
Balloon Pop
Basketball
Bingo SE
Blackjack Fever
Blast Thru SE
Blobs *8 Games *
Block Rox
Bonkerz
Bowling SE
Castle Camelot
Castle Slots
Charmed
Chess Swappers
Chinese Checkers*7 Games *
Chinese Chess Colors of War
Craps Deluxe
Crazy Drake SE
Crazy Puzzle
Dart Mania
Demonstar
Diamondfall
Euchre
Extreme Animals
Extreme Dinosaurs
Foto Matchall
Four Orbs
Fox and Gees *10 Games *
French Solitaire *10 Games *
Funny Diet
Galaxy Slots
Gardener
Garret
Gems 3D
Geo Jump
Gin Rummy
Glowing Bugs
Go Moku *8 Games *
Great Pyramid
Hearts
High Roller
Jigsaw USA SE
Just Aces
Keno
Knight's Tour *7 Games *
Kombat Kars SE
Korean Chess *4 Games *
Krazy 8's
Lexicon SE
MahJonggMaster SE
Master of Dwarves
Max Mix Foto
Maze Cu

Collector's Edition 251 Games – PC
---
Click Below For Full Details
$10.37
$13.50
---