Orange Color Frosted Crystal Singing Bowl Note D Sacral Chakra 13 inch Best and Highest Quality Sound & Material Suede Orange Mallet Included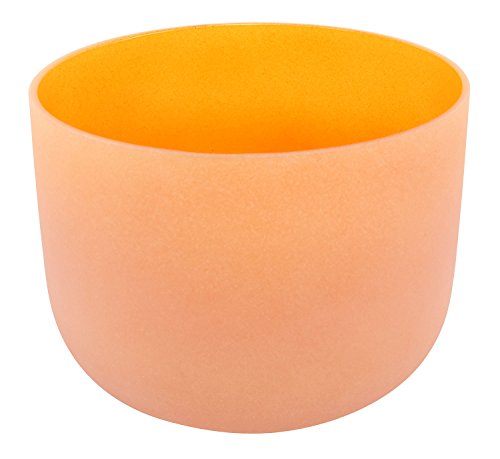 Crystal singing bowl are made from 99.99% pure natural quartz and heated to about 4000 degrees in a centrifugal mold.
Available in clear or frosted bowls in a variety of sizes, ranging from 6-24 inch diameter. The bowls emit a powerful, pure resonance. The bowls are associated with the musical scale, starting with C, then D, E, F, G, A and B. Some bowls harmonize with other bowls, and when both are played simultaneously, the effect will be exquisite and synergistic.
The Quartz Crystal Singing Bowl is more popular at present, as they have same effect with Metal Tibet singing bowl ,but the sound is more beautiful than metal singing bowl ,and sound longer and stronger . As Crystal singing bowl with strong frequency , widely use for therapy ,through the chakra to deal painful of body ,help people meditation, purify the mind, release pressure and so on.
Note: 100% DAMAGE FREE GUARANTEE – Any damage to the bowl is guaranteed by us! You will truly fall in love with this incredible healing tool.Thank you.
CRYSTAL SINGING BOWL–including crystal singing bowl that are made from 99.132% pure naturral quartz, a rubber base ring for the bowl to sit on and a suede stick tool.
HealingHAND TUNED and EASY TO PLAY – Each bowl is carefully inspected to ensure precision tuning and flawless quality. Experience the beautiful, clear, deep, and rich vibrational resonance of this easy to play instrument!
Crystal singing bowl is very easy to play, gently run the included mallet around the rim to make your bowl sing – anyone can play it! Bowls are well popular for sound therapy and meditation healing, chakra aligning and total cleansing, transmitting energies, energizing the physical and energetic Bodies.
Fast Shipping to Most Place Worldwide by Fedex, UPS , DHL and EMS Around 5-40 Working Days.Professional Safe Packing.
ANY DAMAGE COVERED by UBTer – Any damage to the bowl from shipping is covered by us. We will quickly replace for free with no extra hassle. You will truly fall in love with this incredible healing instrument.Gorgeous in your home, glowing with light, this beautiful instrument is an asset to any environment!
---
Click Below For Full Details
$225.78
$225.78
---