Neewer 18 inches 55W 240PCs LED SMD 5500K Dimmable Ring Video Light with 2 Plastic Color Filter(White, Orange) and Carry Case for Makeup, Portrait and Selfie Video Recording(Pink)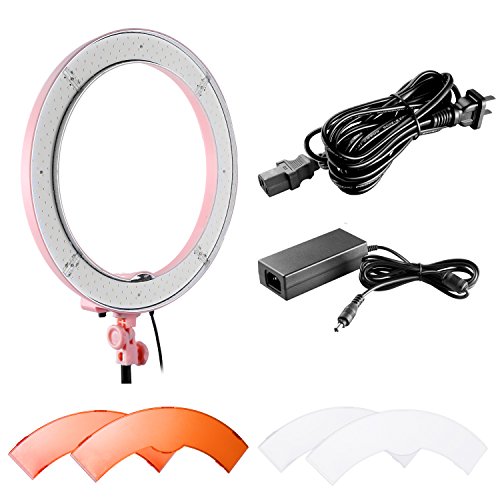 NOTE: The light stand, camera and smart phone are NOT included
Descriptions:
SMD LEDs are even more energy efficient and long lasting than normal LED bulbs.
SMD LEDs use approximately 20% less energy than standard LEDs to achieve the same brightness
Dimmable 18 inches LED SMD Ring Light with a wide dimming range from 1%-100%.
Special LED SMD design, lightweight and portable. Constant current drive, low power loss.
NO ultraviolet and infrared light radiation, low heat output, safety and environmental protection.
2 colored filters are often used as accent lights or to add dramatic color to backgrounds or selected portions of a scene for artistic effect
Long service life of more than 50000hrs.
With reinforced flexible arm which will move freely and never droop.
Extra Long Cord and Heavy Duty Thumb Screws.
Comes with a carry case, an adapter and an US plug.
It is widely applied to makeup, portrait and selfie video recording.
Specifications:
Light Source: LED SMD
LED Bulbs: 240 pcs
Shape: Ring
Outer Diameter: 18 inches
Total Power: 55W
Color Temperature: 5500K
Dimmable: YES
Dimming range: 1%-100%
Total illumination: 4800LM
CRI (Color Rendering Index): >83
Plug: US Plug
Package Contents:
1 x SMD LED Ring Light
1 x Orange Filter
1 x White Filter
1 x Adapter
1 x US Plug
1 x Carrying Case
SMD LEDs are even more energy efficient and long lasting than normal LED bulbs. SMD LEDs use approximately 20% less energy than standard LEDs to achieve the same brightness
NO ultraviolet and infrared light radiation, low heat output, safety and environmental protection. Constant current drive, low power loss
2 colored filters are often used as accent lights or to add dramatic color to backgrounds or selected portions of a scene for artistic effect
Comes with a carry case, an adapter and an US plug. Power source: 110V ONLY
Perfect for makeup, portrait and selfie video recording. NOTE: The light stand, camera and smart phone are NOT included
---
Click Below For Full Details
$79.99
$99.99
---