iPhone Charger, Smart Multi-Port USB Travel Wall Charger with Hidden LED Indicator Light by Wanshine for iPhone X/ 8/ 7, Samsung Galaxy S8/ S7, HUAWEI HTC Nexus Moto Blackberry (Orange 2 Port LED)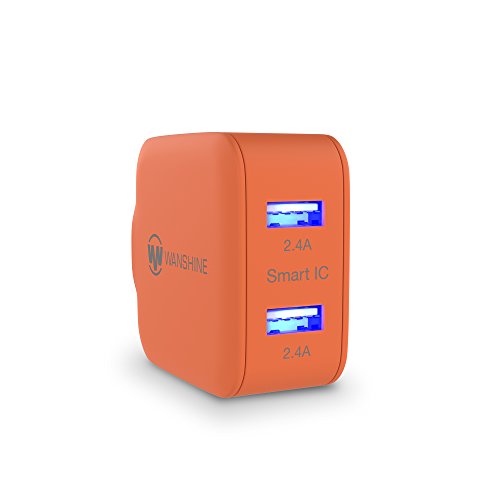 Wanshine®
The Expert Charger Brand
– Charge Your Devices, Charge Your Life and Charge Your Future.
– Let you achieve an Efficient and Quality Life.
Colorful Surface
Color Your Devices, Color Your Life and Color Your Future.
– Do you still complain about leaving the charger in hotel or outdoors? Now, the colorful charger will achieve your desire. You will find your charger easily by its shot colors.
Smart IC Technology
Let Different Devices plugged in being Charged Fastest at its Top Speed.
– Enhanced by our Smart IC technology, the smart USB port is capable of identifying a specific device, and thus ensuring maximum charging efficiency and speed. With Smart IC, our charger "knows" your device and charges at the maximum speed.
Ultra-Fast Dual USB Output
The Fastest Charger You Can Count On.
– 24W/4.8A Dual USB output lets you charge any two smartphones or tablet devices simultaneously, at top speed.
Full Protections
Advanced security.
– 5 Kinds of Protections (Short-circuit, Over-current, Over-charging, Over-voltage, Over-discharging) keep you and your devices safe.
Matte Texture
Steady Holding on your hand and Feel High Quality.
– Saying Goodbye to the messy of fingerprints and slippery. Remains clean all the time and holding in hand steadily.
Foldable Plug
Potable and Perfect for Your Travel.
– Foldable plug, fits in the palm of your hand
– Vibrant colors (Orange, Blue, White) easier for recognizing.
Universal Compatibility
Ready for charging Multi-Model Devices
– Smartphones & Tablets: Kindle(Fire), Apple Samsung Galaxy Tab HTC LG Nexus Motorola Blackberry and More.
Specifications:
– Input: AC 100~240V 50/60Hz
– Output: 5V/4.8A (each 2.4A max)
Package Contents:
– 1 x Wanshine Dual USB Wall Charger
– 1 x Warranty Card
?Ultra-Fast: 24W/4.8A Dual USB output lets you charge any two smartphones or tablet devices simultaneously at the fastest speed (each 2.4A max).
?Smart IC Technology: Identifying your electronic devices and charging them efficiently and safely. Hidden Blue LED power indicator.
?Full Protections: 5 Kinds of Protections (Circuit, Over-current, Over-charging, Over-voltage, Over-discharging) keep you and your devices be safe.
?Matte Texture: Feel high quality, anti-fingerprints. Keeps clean all the time and holding in hand steadily.
?Unconditional Lifetime Warranty
---
Click Below For Full Details
$12.79
$21.79
---